Approval: Householder Planning Application for Two Storey Extension
Posted:

June 11, 2019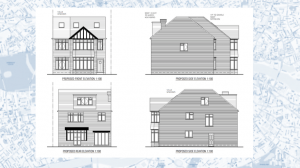 Ealing Council: Planning permission has been granted by Ealing council for a Two Storey side extension on both sides of a dwelling house, as well as an extension to the roof to form a first floor extension.
MZA Planning are overjoyed to know Ealing are allowing our clients raised ridge of the roof, installation of roof lights to front roof slope and associated internal and external alterations. The materials used for the proposed extensions submitted should harmonise with the existing building and surrounding area, in accordance with Ealing policies.
Ealing council have listed all proposed drawings in which we must comply with and relevant policies to the client should comply with whilst building the Two Storey infill extension, roof extension and associated alterations.
If you have a similar build that you want your council to approve, please contact us and our planning consultants can discuss the possibilities of getting this approved for you.
Call us today on 020 8995 7848.