Approval: Householder Application for Dropped Kerb & Outbuilding
Posted:

June 11, 2019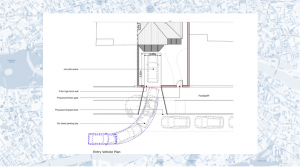 Hounslow Council: MZA are pleased to announce the recent success of a footway crossing/ vehicle crossover. As well as the approval at the same property for replacement outbuilding to be built in the garden.
The council agreed to this as long as the client maintained pedestrian safety. They also require the hardstanding to have an attractive appearance and where possible to keep existing boundary treatment and planting to maintain the character of the property.
MZA Planning proposed a timber pedestrian gate alongside the dropped kerb to keep the appearance in keeping with the road and the conservation area.
We have handled many dropped kerb cases over London. If you're looking into getting a dropped kerb and want expert advice on how best to go forward, please contact us at MZA Planning on 020 8995 7848.